FRAUD
PREVENTION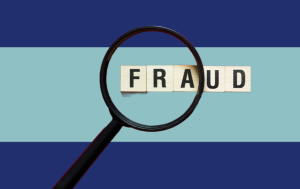 Here we talk fraud prevention. Many clients are growing ever more concerned about their susceptibility to so called 'short term' fraudsters – so we ask ourselves, how do we identify it and what can we do to combat it?
Let's face it, being 'caught out' by one of these scams is every Credit Manager's worst nightmare. By the time the invoice(s) fall due, the scammer is already in the wind and with such a head start (typically with minimum credit terms of 30 days) there is little chance of recovery.
Whilst Action Fraud and the Police should be notified, debts of less than £100,000 are unlikely to register on their radars. This is primarily because the number of such cases is on the rise and the resources to investigate them are limited. Unless we act now the proliferation of such events will continue to soar.
If we can't stop it, what can we do?
First and foremost, make sure your team are sufficiently trained in what signs to look out for – this includes both your Credit Management and Commercial departments.
It is also important to understand 'scam journey':
Initial contact via mobile phone / email / text,
little or no price negotiations / push back,
a change in the purchasing habits – from 4 or 5 small orders to 1 very large order – with a significant invoice value (often with a short lead time),
registered address – residential or a PO box,
sector disorientation – the SIC code being materially different to yours,
and last minute changes to delivery address – google earth is great for checking addresses.
Once you understand 'scam journey', you can then implement the appropriate action to combat it.
Take action
KYC (know your customer) – take a landline number, address (postal and email) and website details.
Google is your friend – check out the details provided and call the number, explore the premises on Google Earth and take a look at the web page (limited functionality can be a sign of a hastily put together website).
Email addresses – personal email exchanges such as Hotmail, Gmail, etc. can be red flags.
Watch out for numerous changes to addresses / ownership / activity on Companies House.
Remember: when these red flags occur standalone it may have no specific meaning however, a number of red flags arising on a single customer may be an indication that further checks are required.
If you wish to discuss any of the issues raised in this article, please don't hesitate to get in touch.